Chemical Decontamination of Process Units
SENTRO Vapor-Phase Chemical Decontamination
Application:
Chemical injected into steam.
Minimal changes in operational steam-out procedures.
Continuous injection of fresh chemicals.
Continuous monitoring of hydrocarbon / LEL / H2S / Benzene levels.
De-oiling, degassing & Sulfide oxidation (no Pyrophorics).
Applicable for Heavy Oil Units such as Atmospheric, Vacuum, Visbreaker, Desalter, etc.
Applicable for a combination of furnace + tower bottom + overhead system (coolers, accumulator) + pump around / sidecuts, etc.
Advantages:
Minimizes Down Time

Reduces Steam Out Duration.

Reduces Maintenance Activity Before and After Decontamination Process.

Environmentally Friendly

Extremely Low Chemical Oxygen Demand (COD) Waste.

Does not make Stable Emulsions.

Minimizes the amount of waste generated.

Effective

Penetration and softening of heavy residuals and asphaltenes.

Assures chemical contact and reduces the possibility of channeling.

Will suspend Coke scale and particulates.

Efficient

Results are equal to a cascade or full circulation but with less effluent volume.

Fewer mechanical connections and less maintenance time.
Set-up is simple, fast, and economical:
Includes barrels, barrel pumps, ½" flexible hoses, and ¾" or 1" injection connections.
(unlike liquid circulation –this application does not involve a tank, chemical blending, centrifugal pumps, heavy flexible hoses, temporary connections, large effluent volume to be treated, and more..)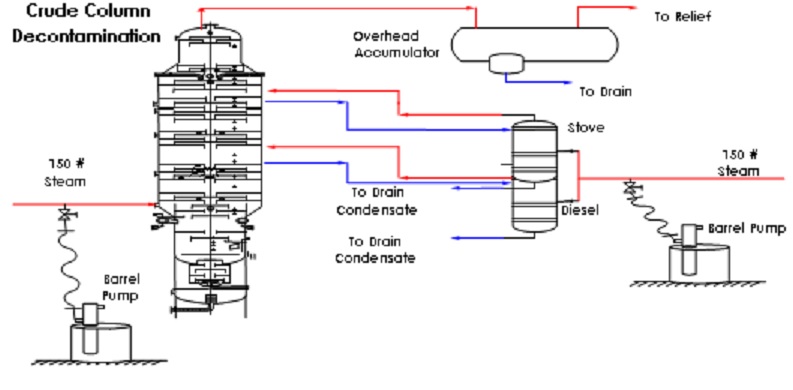 SENTRO Liquid-Phase Chemical Decontamination
Application:
The process is safe and effective
Removes heavy oil deposits, organic scale, coke, and polymers
Non-hazardous and non-corrosive chemicals, in water-based chemical solution
Compatible with the unit's metallurgy
Effluent is biodegradable and non-transport-regulated
Inline 10 um filtration to capture solid particles
Chemical solution can be heated by steam or by an external heat source
Optional low-temperature circulation for limited-temperature applications
Optional for a solvent-base non-aqueous chemical cleaning in specific applications
Optional two-way circulation: direction of the circulation can either be against the process flow or with the process flow
Advantages:
Environmentally Friendly

Low Chemical Oxygen Demand (COD) Waste

Does not make Stable Emulsions

Effective

Penetration and softening of heavy residuals and asphaltenes

Assures chemical contact and reduces the possibility of channeling

Will suspend and remove coke scale and particulates
Optional: Boilout chemical decontamination for vessels
The vessel is flooded and filled with chemicals and water
Steam or an external heat source is added to heat the solution and agitate sludge or solids
Covers all sludge layers and assures chemical contact
Immediately reduces odor concerns
Great application for storage vessels, overhead receivers and fuel gas KO drums
Works well in vessels that have limited Tie-in locations or steam connections
Allows fewer temperature restrictions
Pre-flush and Post-flash advantages
Pre Flushing

Helps reduce surface tension and remove free solids

Penetration and softening of Atmospheric Residue

Assures chemical contact of solids in packed sections and dead spots

Post Flushing

Assures chemical saturation and neutralization of pyrophoric in large packed sections

Helps to carry out free solids
Will rinse out residual chemicals a

nd reduce the

odor

Oxidized rinse water helps with effluent disposal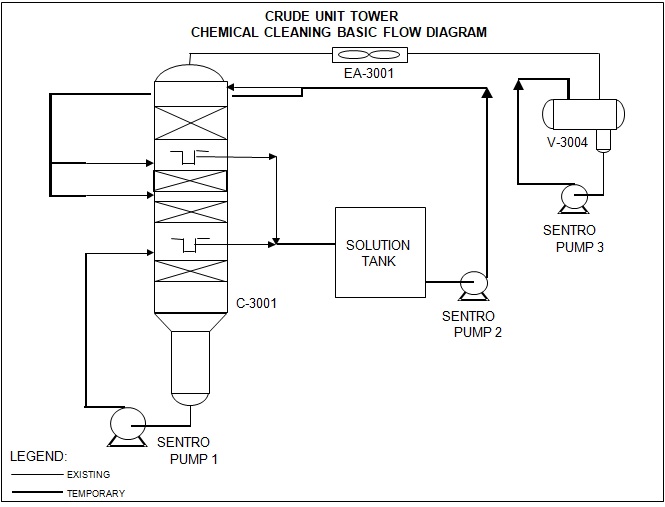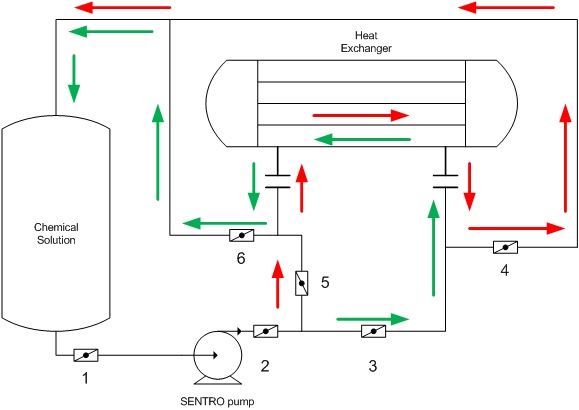 Sentro Technologies USA, LLC
Online Dry Chemical Cleaning of Fin Fan Air Coolers, Furnaces, and Boilers | APR Acoustic Pulse Reflectometry Tube Inspection | Acoustic Emission Testing | Jacob's Sniffer 430 Leak Detection